The Home of the Travelling Sparrows, Winkie, Fae & William Pratney
HERE IS THEIR 2019/2020 "SPARROWS" UPDATE
SPIRITUAL VOCATIONS now available!
Winkie's long anticipated new book, SPIRITUAL VOCATIONS is now available for purchase on Amazon.com in both Digital (Kindle) and Print-On-Demand versions. Our friends Ross and Ruth McElwee were instrumental in getting the book ready for publication before the end of the year, having spent hundreds of hours proof-reading, editing, formatting and otherwise getting it ready for launch.   
What is Spiritual Vocations?
- A Journal of Discovery
- 10+ Years in the Making
- Supported by 5,000+ Scripture References
- Containing 40 Specific Vocation Titles that God Himself Bears and Designates to Individuals (such as Builder, Gardener, Judge, Writer, etc)
What's the Appeal?
- Discover Your Own Non-Religious Vocation(s) in Scripture
- Learn more about God in Scripture by Looking at Many Specific Kinds of Work He Does
- Understand How God's Nature and Work Relate to You and Your Work
YOUTH AFLAME! 2.0 now available!
Winkie has also released (again with the help of Ross and Ruth McElwee) the highly anticipated YOUTH AFLAME! 2.0, now available for purchase on Amazon.com in both Digital (Kindle) and Print-On-Demand versions.
The release of this 5th major edition in 2017 marks the 50th year anniversary of the groundbreaking comprehensive personal discipleship manual. Designed for and used by disciple and instructor, individual and group application, and especially for high school and university age youth and youth groups, this book has been transformative in the lives of countless individuals, and seminal in the lives of countless Christian ministers, ministries and churches. This book is still being used today as a groundbreaking personal discipleship handbook and effective Christian training manual.
In this updated version (2.0) Winkie has not only added new material relevant to current issues in our world, but has re-introduced material from the original 1967 Edition that somehow was lost over the evolution of the manual's publications. His proofreading team (Ross and Ruth McElwee) has painstakingly made a full comparison of the 1983 (and 4th Major) Edition with the original 1967 Edition, which they presented to him for final decisions on content and approval prior to publication. Youth Aflame! 2.0 therefore combines the best of both worlds - the radical, hard-hitting edge in Winkie's writing from his early 20's, and the wisdom of now 55 years of ministry.

More to come! Winkie still has 7 more books planned, such as:
The Nature and Character of God, Volumes II and III
(Honest?) Questions
Fractal Prophets, Quantum Guidance, and Chaos Ministries
The Coming of the Dreamer (A Sci-Fi Novel in 3 Parts or Volumes)

Check back often for updates and new material being added.
After more than three million miles of global travel and having spoken to hundreds of thousands face-to-face and multiple millions via radio and television, Winkie has wide experience in motivating leaders, ministers, educators and young people. Winkie is a mavin: a researcher and public communicator with ability to take existing ideas, break them down to simpler forms and make them practical and freely available to others.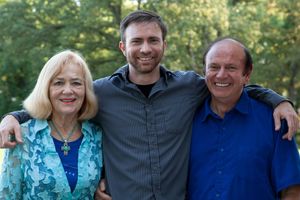 He, his wife Faeona, and son William are New Zealanders (his son is a US born dual-citizen). They maintain a permanent residence in Auckland, NZ and have a low organizational profile.
For Winkie's full bio, click here.